Patron Gaming Dispute Process
Gaming Dispute Process for Class II and Class III Games
The San Manuel Tribal Gaming Commission (SMTGC) is an independent Tribal governmental agency established by the San Manuel Band of Mission Indians (the "tribe") to regulate gaming activities within the tribe's jurisdiction ("Gaming Activities). The SMTGC is responsible for protecting the integrity of the Gaming Activities and the reputation of the Gaming Operation. SMTGC Patron Dispute Regulation Nine (GCR009) provides a fair process by which patrons can seek resolution of disputes over the play or operation of any Class II or Class III game at Yaamava' Resort & Casino at San Manuel (the "Casino").
A Brief Overview of the Gaming Dispute Resolution Process:
Immediately notify Casino management of any dispute you have regarding the operation or play of the game, no later than 3 days from the initial incident.
Upon receiving your gaming dispute notification, the Casino will provide you with a copy of the Gaming Dispute Pamphlet explaining your rights under GCR009.
After receiving the Gaming Dispute Pamphlet, you have 15 days to submit a completed Gaming Activity Dispute Form to the SMTGC.
Upon receipt of a Gaming Activity Dispute Form filed within the 15-day timeframe, the SMTGC will investigate your dispute and provide a written decision to you within 60 days. 
If you disagree with the SMTGC's decision, you have 20 days from the date of the SMTGC's decision or deemed denial to file an appeal with the Tribal Court.
Please click here to review GCR009. You may also call the SMTGC at 909-863-2150 (ext. 105590) with any questions regarding the gaming dispute process.
Your Rights and Responsibilities
You have…
3 days to notify the Casino of any issue over the play or operation of Gaming Activity
15 days from receiving notice of the dispute process and your resolution rights to submit a completed Gaming Activity Dispute form to the SMTGC
20 days from the date of the SMTGC's decision to file an appeal, if dissatisfied.
Throughout the gaming dispute process, it is your responsibility to keep the SMTGC and the San Manuel Tribal Court informed of your current mailing address.
For Gaming Disputes Only
Call: 909-863-2150 (ext. 105590)
FAQ's
The information contained herein is provided only for general educational purposes. All gaming activities at San Manuel are strictly governed by applicable laws and regulations.
Q.
What is the role of the SMTGC Investigative team in the Dispute Process?
The SMTGC Investigative team's role in the dispute process is to gather evidence and document the events surrounding the disputed play. This may include taking photos, obtaining written statements from involved parties and witnesses, testing the software of relevant computerized gaming equipment, reviewing surveillance video recordings, and capturing any other relevant evidence. The Investigator will also postpone payment of winnings or delay distribution of prizes pending final resolution of the dispute.
Please note that the Investigative team does not have authority to make a decision on the dispute or award any payments.
Q.
How do you play a gaming machine?
Each gaming machine will be slightly different to play. In general, you will deposit your money or voucher into the gaming machine. It is recommended that you read all game rules and available payout information before making your wager so that you can see which payouts you may be eligible to receive. The game rules describe the pay table information and the rules of play for each game. After reading the rules and payouts, choose how many credits or lines you wish to play. Depending on the machine, you may have different options to choose from to initiate gameplay (none of which influences the game's outcome):
Physical or Virtual Spin Buttons
Machine Handle
If you have won, the machine will display how much you have won and give you the option to continue playing or cash out. If the game provides bonus spins or mini games, the game rules will explain how those features work. Casino staff is available to assist with questions regarding how game play works.
Q.
Can a gaming machine malfunction?
Gaming machines are designed by manufacturers to operate properly on a continuous basis. However, on rare occasions a machine may experience a functional error of some kind. Regulatory requirements specify that if alleged winnings are the result of mechanical, electronic, or electromechanical failure and not due to intentional acts or gross negligence, the patron is entitled to reimbursement of the amount wagered during the malfunction. 
Q.
What do I do when a gaming machine is not functioning properly?
You should stop playing immediately and contact a casino employee to notify them of the situation. The employee shall contact a member of Casino Management immediately. There may be an explanation for the situation in question. If you feel the explanation is not sufficient and would like to dispute the casino's response, you have the right to do so. You should immediately ask to speak to a San Manuel Tribal Gaming Commission representative to move forward with the formal gaming dispute process. 
Q.
How does a gaming machine work?
A modern gaming machine is essentially a machine with a built-in computer which is used to generate random number stops for each spin of a game. The older mechanical slots relied on actual hardware parts that controlled the reel stops. Newer electronic gaming machines use much more sophisticated technology to determine the spin outcome. A computer algorithm is generated based off a Random Number Generator (RNG). Most common RNG's are constantly generating thousands of random number combinations per second regardless if the machine is being played or not. This prevents predicting the combination outcome of numbers when a spin is initiated for play. The RNG is certified to not be influenced by any outside factors and typically never stops working, which ensures the combinations are totally random. For example, when initiating play, it chooses one of the random number combinations produced by the RNG. The random number combination is then represented as a symbol on the reel or video screen (ex. 7= bar, 17= bar, 3= bar) see Figure 1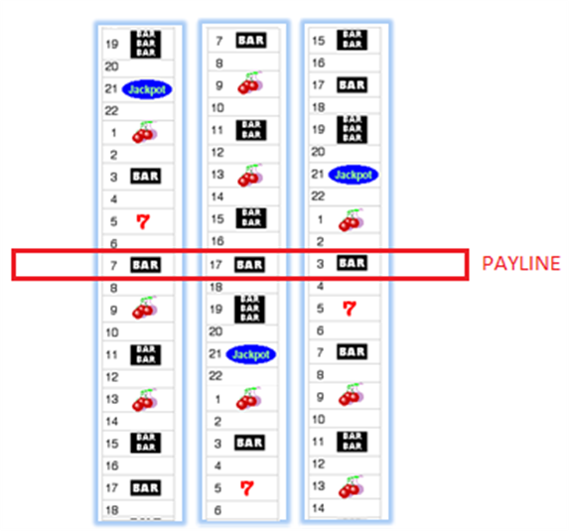 Figure 1 (In normal gameplay, the numbers will not be displayed on screen or reels, they are considered a "virtual number".)
Q.
How do I know I have a fair chance at winning?
As required by Tribal and State gaming regulations, the randomness of gaming machines is certified to ensure that the games are random, unpredictable, and fair. Every spin is required to be independent of all past spins and is not pre-programmed to pay out based on previous wins or patterns. This means the game does not work on any type of cycle, therefore, it makes no difference if a machine has hit any winning combination within the last few minutes, hours, or year. Game outcome is all a random element of chance.
The element of chance is an integral part of the gambling experience. Prior to the casino offering slot machines for commercial operation, these games must receive certification by independent test laboratories; the same laboratories utilized by all the major gaming jurisdictions, including Las Vegas.
The Tribal and State regulatory agencies both conduct random inspections and testing of the gaming machines at the casino to ensure game integrity. These random inspections include gaming machine software and hardware, maintenance records, and any components critical to the operation of the gaming machine.
Q.
Is it true that if I use my loyalty card when playing a machine, the casino will control how much I win?
No, this is false. The casino cannot change or control the outcome of any game on a gaming machine. Gaming machines are specifically designed, tested, and certified by independent laboratories to ensure that outside influences cannot affect game outcome. Players who do not use their loyalty card from the casino's loyalty program miss out on any benefit from the program, such as point accumulation, promotional bonuses, and giveaways.
Q.
If a jackpot hits on a machine, will it not hit again until a certain amount of money is put back into that machine?
No, this is false. The machine's winning combination is totally random and it is possible to hit another jackpot on any spin, including right after a jackpot. Every spin is random and independent of all past spins.
Q.
Can the casino change (tighten) the payout of my machine while I am playing?
No, this is false. Gaming machines have controls preventing the casino from modifying its configuration while a patron is playing.