San Bernardino, CA, May 20, 2022 –– Santos Manuel, the founding leader of the San Manuel Band of Mission Indians, was awarded In-Memoriam (Posthumous) an Honorary Doctorate in Humane Letters from California State University, San Bernardino (CSUSB) at the university's commencement ceremonies Friday evening.
The university recognized Santos Manuel, his leadership, and his legacy during the College of Social and Behavioral Sciences graduation  the university's first in-person commencement ceremony since 2019. The college's 1,185 graduates, their guests, and CSUSB faculty witnessed this historic occasion as San Manuel Vice Chairman Johnny Hernandez, Jr. accepted the degree.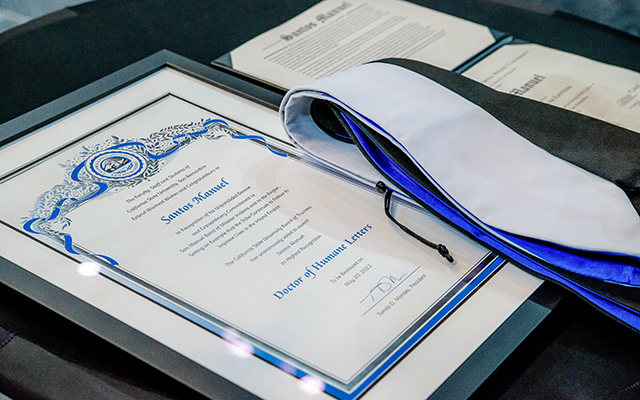 Santos Manuel was the Kiika' (leader) of the Yuhaaviatam Clan of Serrano Indians and is known for his visionary leadership that helped ensure the survival of the Tribe, now known as the San Manuel Band of Mission Indians. His life encompassed major milestones in California and U.S. history, including Spanish missionization, the American settlement of Southern California, urban development, and World War I. In 1919, Santos Manuel passed away after spending the majority of his life instilling in his people lessons of Yawa' (to act on one's beliefs).
"The Tribe is honored to accept this award on behalf of our revered elder Santos Manuel," said Vice Chairman Hernandez. "The path he helped forge for our people is one of wisdom, vision, and community. We work to uphold his lessons through our continued investment in education, self-determination, and community building."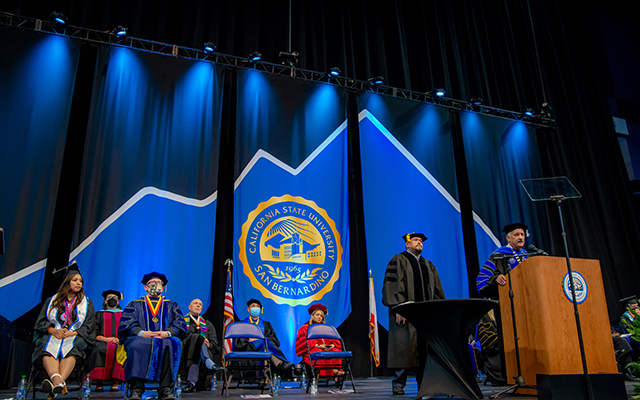 San Manuel Band of Mission Indians has shown a deep commitment to education. The Tribe is working to change the way Indigenous history is taught in California through its partnership with Assembly Member James Ramos and the sponsorship of Assembly Bill 1703. San Manuel has identified education as one of its Pillars of Giving and has invested more than $118M to educational causes. These grants and philanthropic gifts are made to nonprofits, colleges, and universities that work to expand educational opportunities and are developing innovative degree programs.