Yuhaaviatam Club Membership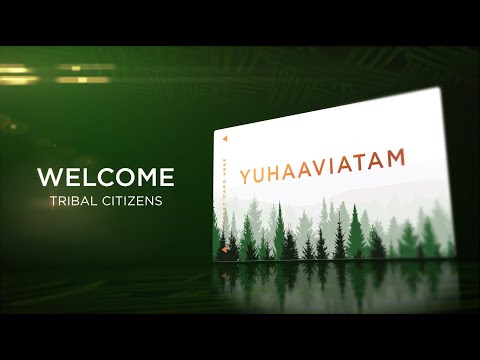 Club Membership
Introducing Yuhaaviatam, the newest Club Serrano tier at Yaamava' Resort & Casino. Enjoy the best of Yaamava' and some added perks with this exclusive card available only to Tribal Citizens and Tribal Community Members 21 and up.
You can pick up your new card starting on Friday, March 18, between 9am until 5pm in the Tribal Annex Building, or at the VIP Concierge Booth inside The Vault, situated on the second floor of the Casino. Reprints are available at The Vault or by calling the Casino VIP Concierge line at 909-649-1805.
To learn more, call VIP Concierge or Tribal Community Services at 909-425-3460.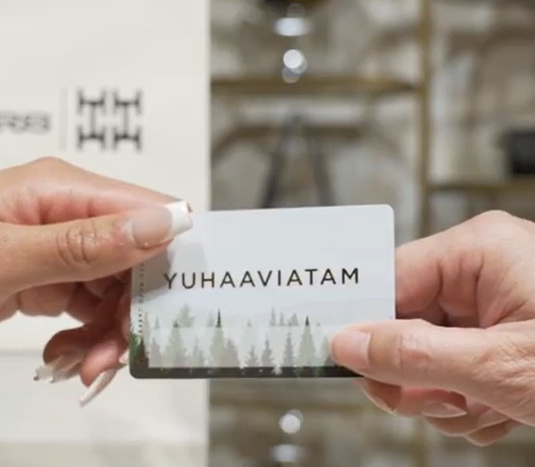 FAQs
To learn more, call VIP Concierge or Tribal Community Services at 909-425-3460.
San Manuel Tribal Citizens, spouses, and children over the age of 21+
Yaamava' Resort & Casino
The Palms Casino Resort 
Q.
What are the benefits at Yaamava' Resort & Casino?
25% discount at all food & beverage and retail & spa points of sale

*Not applicable on alcohol and gift cards

25% discount on best available hotel rates
Early access to presale entertainment tickets
VIP parking and free valet
Free check cashing at the cage
Priority line access (Guest Services, restaurants, hotels and cage)
Priority hotel check-in
17th Floor Y Lounge access
24/7 concierge program for priority dining, hotel, spa and special event reservations
Q.
What are the benefits at Palms Casino Resort?
Free Self-Parking
Access to Entertainment Ticket Pre-Sales for Select Shows
Free Valet
VIP Parking
Priority Access at Club Serrano Desk
Priority Reservations for property amenities through VIP host or VIP Services
Priority Valet Services
Free Monthly Virtual Coins for Yaamava' Play Online
25% Discount on movie tickets at Brenden Theater at Palms
Dedicated Hotel Reservation Line
Comped Resort Fee
Priority Access for A.Y.C.E. Buffet
VIP Lounge Access for Hotel Check-in
Premium Seating at Select Show (based on availability and play)
Yuhaaviatam membership is free for San Manuel Tribal Citizens and Community Members.
Must be registered as a San Manuel Tribal Citizen, spouse, and children who are 21 years of age or older to participate.
Valid State Issued ID or unexpired Tribal Government-issued photo identification is required when applying for membership and all player transactions.
Club Serrano club card points, offers, and Earned Rewards are not transferable. Benefits are intended for the tribal member listed on the account only, and only the named account holder may use the card or access account information. Members are not allowed to share their Club Serrano cards with another player. In addition, members (or players who do not have a Club Serrano card) are not allowed to use the Club Serrano card belonging to another player. Any member or player violating such rules may be excluded (banned) from the Yaamava' Resort & Casino gaming facility.
Club Serrano card does not constitute a financial account and does not entitle the player to any financial services. The term "account" is used solely to describe the Club Serrano card which is used primarily for tracking gaming activity, transactional activity, and Earned Rewards.
Members should report a lost or stolen card immediately. A duplicate card can be issued with proper identification. Yaamava' Resort & Casino is not responsible for lost, stolen, or misused cards.
Members with proper identification wishing to play multiple machines simultaneously may request duplicate cards. Distribution of cards to players other than those registered to the account may result in revocation of membership and forfeit of any Earned Rewards, points, promotional offers, or other club privileges. Violations relating to the aforementioned activity may also result in the member being excluded (banned) from the Yaamava' Resort & Casino gaming facility. Advantage or team play is expressly prohibited and may result in the exclusion (banning) of those players participating in such activity.
Club Serrano cards are used to track slot and table games play and accumulate Tier Points ($1= 1 Tier Point in slot machines and $2=1 Tier Point in video poker machines) and Earned Rewards by the member-only.
Tier Points for table gameplay are based on game type, average bet and time played.
Earned Rewards can be redeemed at food outlets, retail shops, and for entertainment tickets.
Slot Points can be converted to Free Play - $1 for 500 points. The minimum redemption is $5.
The member is responsible for their Club Serrano card to be inserted properly in the slot machines and/or presenting their card to a Dealer or Table Games Supervisor before playing to ensure proper tracking.
Club Serrano Tier Points are based on a calendar year. The membership that shows no activity for twelve (12) months will be considered inactive. The remaining points will be retired.
Management reserves the right to adjust account status due to computer error, machine malfunction, or operator error or to cancel accounts for fraud or other misuse or attempted fraud or misuse of the Club Serrano card.
Players agree to allow the use of their name or likeness for promotions/advertising and announcements without compensation where permitted.
All decisions regarding the interpretation of rules and eligibility for this club lie solely with Yaamava' Resort & Casino, whose decisions are final.
Management reserves the right to modify, cancel, change or revise policies and benefits at any time without notice.
Individuals who are excluded from the casino by their request or excluded at the discretion of Yaamava' Resort & Casino are ineligible from club benefits. Other forms of club exclusion can be determined by The San Manuel Entertainment Authority and the San Manuel Tribal Council, where they have the discretion to identify and consider any conflicts or circumstances that shall affect the Tribal Citizen's "Good Standing" status. "Good Standing" is defined as any San Manuel Tribal Citizen that is free from "any exclusions" or "court actions" that would prohibit patronage at Yaamava' Resort & Casino.
Tribal Citizens who are gaming licensed are not eligible for Club Serrano gaming benefits or gaming activities.  If employed by Yaamava' or SMBMI, Tribal Citizens are eligible for hospitality benefits and amenities.
By participating in this program, Tribal Citizens agree to these terms, conditions and rules set forth by the San Manuel Entertainment Authority and tribal council. If a participant would like to opt-out of correspondence from the casino they should notify Club Serrano management. Unauthorized or fraudulent use may result in termination of benefits and/or membership.